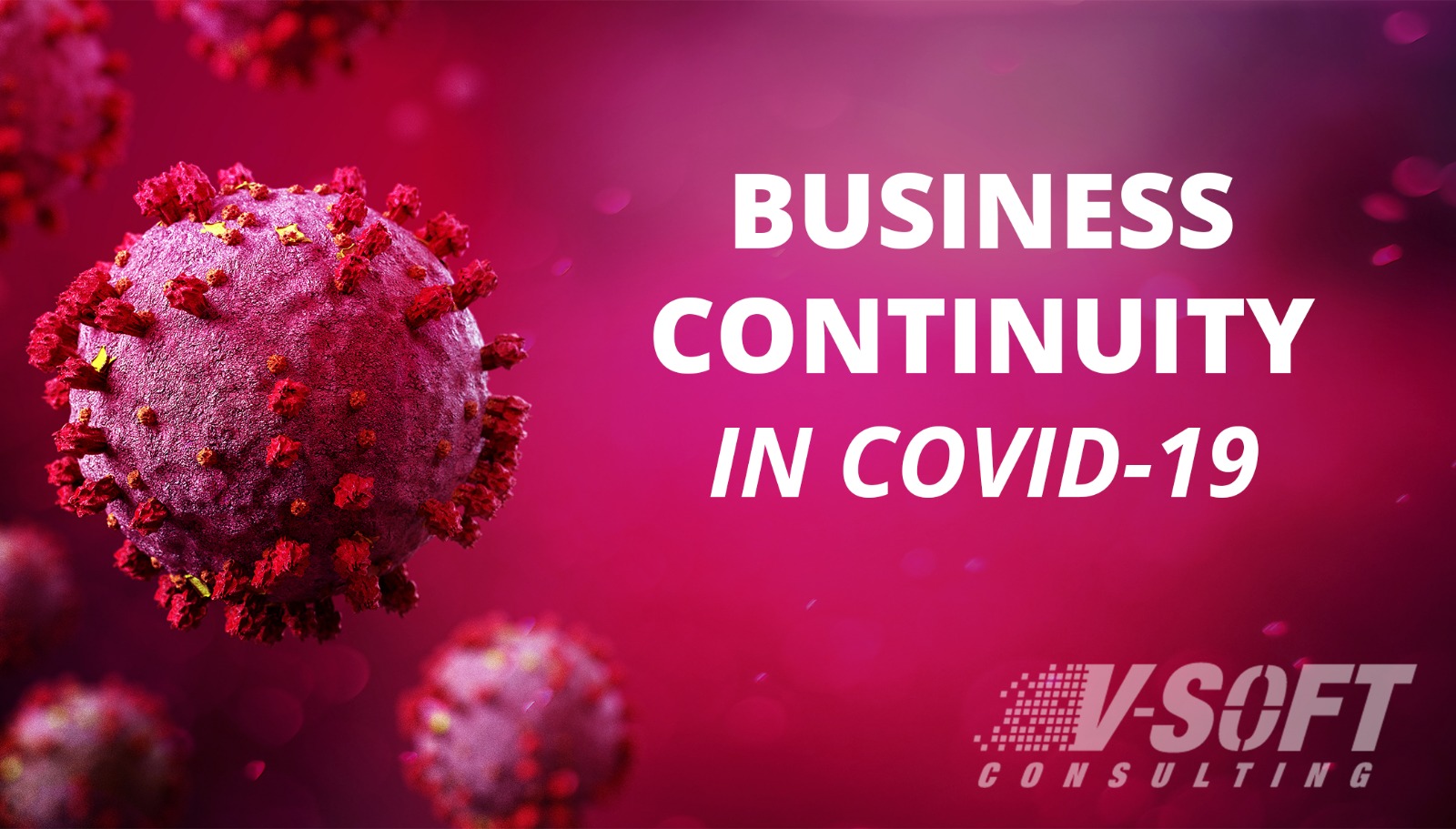 As 2020 launched, our team at V-Soft could not have been more excited with what this new year had in store. Our budgets were aligned with 20% growth targets for hiring and revenues. Suddenly, we all learned what Coronavirus is, what a pandemic is, and how it can impact business, and every corner of the globe. We all went from awareness to concern and in less than two weeks, local, state, and federal governments put a stop to business as we know it. If we were going to succeed, we had to act fast, make smart decisions, and be nimble for today while staying agile for the future.

Fast forward to April 2020 and it's safe to say no business leader could have guessed just how different the landscape would be when we started the year a few months ago. We are navigating this storm in real time and I'd like to share what we've learned and how we are hoping to set up V-Soft for success. My goal is to be transparent so that you can benefit from our missteps, make smarter decisions, and if we got some of this right, apply our practices to your business.
We recently celebrated V-Soft's 23rd anniversary, and in those 23 years, I've seen a lot. V-Soft has been through multiple downturns. Though this one is somewhat different and happened suddenly, the resiliency built through years has helped us to be ready.
Everybody has a plan until they get punched in the face."

– Mike Tyson
Proactive, Intentional Leadership
I'm proud of how the leadership has performed during this time. We quickly realized the need for a COVID Taskforce made up of leaders from HR, Finance, Sales, Operations and our Executive Team to face the issues head on. We had to make hard decisions to survive in the short term, allowing us to thrive in the long term. This team began collaborating immediately almost daily and continues to do so.
The hardest part for me was knowing that V-Soft was not exempt from making hard decisions like so many companies, including lay-offs and furloughs. Understanding the seriousness of the landscape and anticipating a harsh economy for the future, the leadership was proactive in identifying areas that were not effective and on the flip side identifying valuable positions for talent that needed to be protected.
Our finance and operations teams immediately got to work on additional cost optimization efforts. They put their negotiation skills to work in communicating to our strategic partners how we can work together during this crisis with the goal to reduce non-personnel related spending. This activity included looking at our insurance, office leases and banking agreements, among others.
Once the immediate needs were addressed, we placed a critical importance on scenario planning. While we're handling what's happening to us in the present, we have to spend even more resources to prepare for the future. We have to endeavor to anticipate worst case scenarios better and prepare for the next unexpected crisis, for if we do not learn from this, we are truly no better off than today.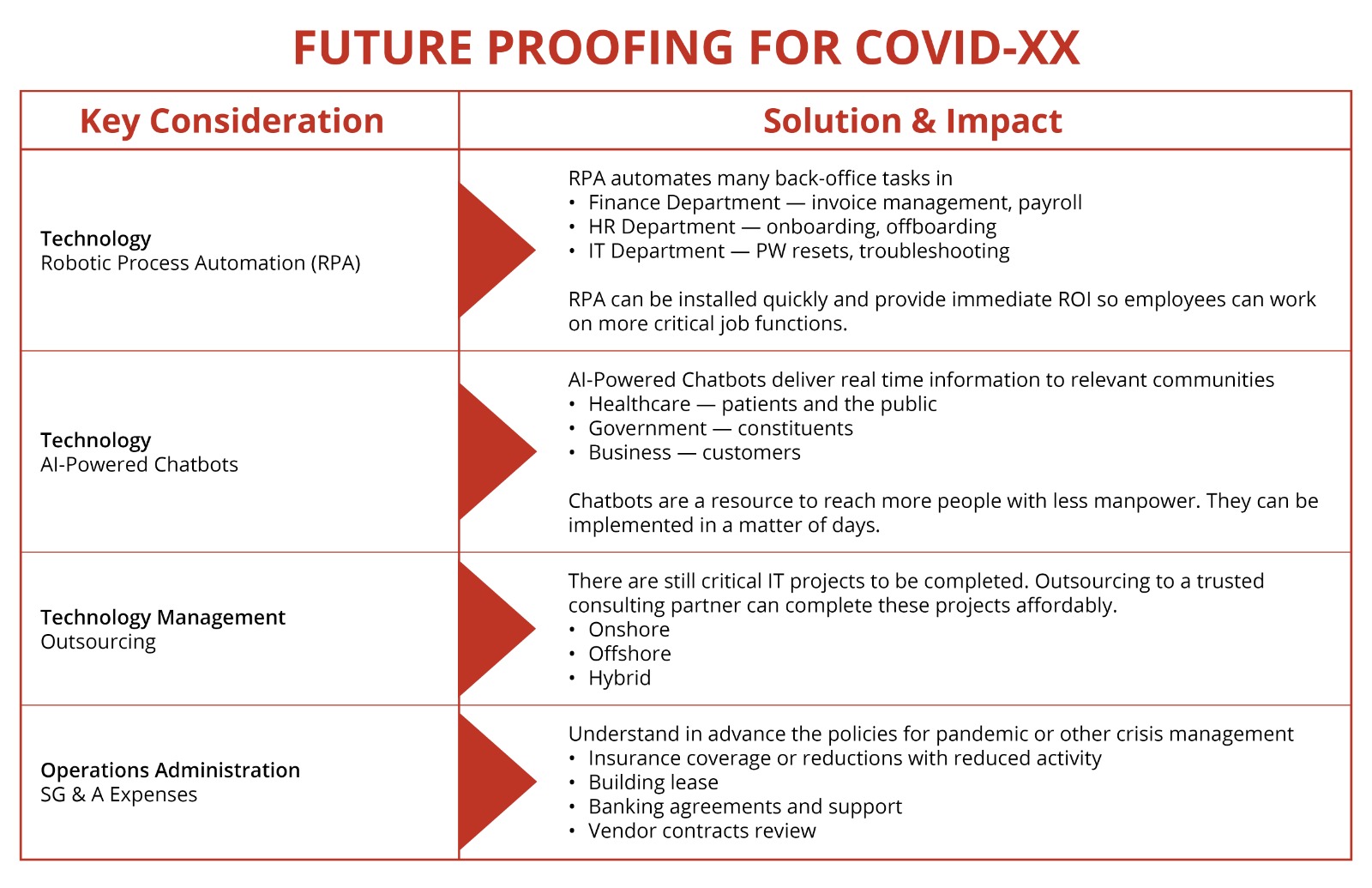 Looking Inward, R&D Improvements
Like I've stated previously, we are not unlike other companies in facing some slow down of business. I've chosen this time to look inward and reflect on how we at V-Soft can improve. This moment has been great practice for me and the other department leaders to uncover redundancies and inefficiencies. While this slow down remains, we've been able to start our own projects to improve our processes with the services we excel at. I'm excited to name a few projects we've started, such as using RPA in many of our finance processes, improving AIOps in our ServiceNow Platform and so on.
Pivoting our Service Offerings
As you can see already, there has been a tremendous amount of adjustments in less than four weeks on how a company delivers and manages engagements with customers. One area that may have changed the most is our immediate adjustments to our service offerings. V-Soft continues to be a leader in digital transformation solutions, but as the landscape changes, so does our customers' priorities and needs.
Retainer Team for IT Outsourcing Model
Updated with seventy-two hour ramp up and rapid deployment, our updated IT retainer teams model is helping clients fill gaps due to hiring freezes. These rapid deployments can pivot quickly between application development focuses, giving our clients agility and affordable pricing with our hybrid outsourcing model.
Automation by Any Means
Automation has become critical for companies to continue to get work done despite employee disruptions due to working from home and lock downs. Through applications, APIs, or artificial intelligence, we've helped automate how our clients get work done. (more on automation by any means here)
Intelligent Chatbots
We've quickly rolled out disaster support chatbots (more here) to provide real-time information dissemination for institutions and corporations. Additionally, intelligent chatbots can engage with clients and partners on virtually any platform, automating service and streamlining costs.
Robotic Process Automation
We've also had to ramp up other RPA (Robotic Process Automation) offerings as companies simply cannot keep up the status quo of manual labor for easily automated tasks. The best thing about RPA is that it can be deployed quickly and affordably, giving peace of mind to our clients who need their operations to run smoothly. For example, V-Soft implemented a RPA program to help a client automate invoice management and functions, allowing employees to focus on more critical tasks.
Maintaining Our People-First Approach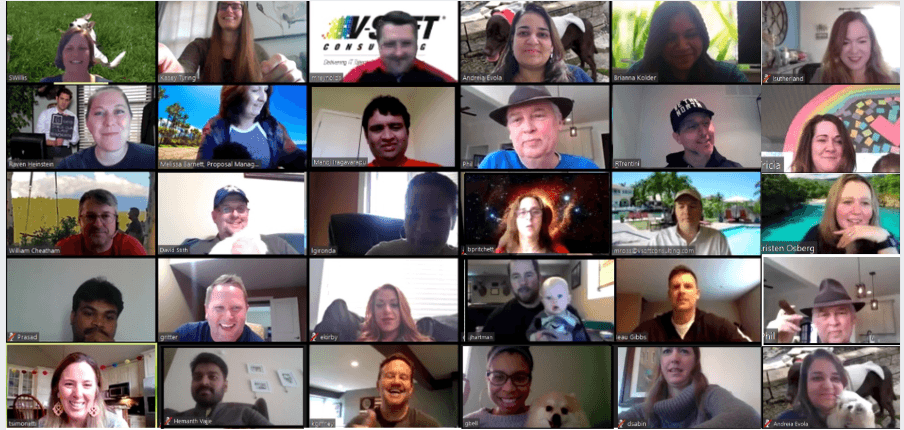 V-Soft's core values have remained the same for over two decades and have been guiding us through these times: People First, Passion, Own It, Innovation Through Collaboration, and Making a Positive Difference.
Our People-First approach is something we lasered in on during this time. Like everyone in the world right now, V-Soft staff and consultants are worried about the future and are experiencing a different set of challenges and realities. Many had to part ways with the company temporarily or permanently, which is scary for us all.
It's very important to me that V-Soft helps our employees overcome stresses in their life because the talent we have here is what makes our company successful. A true standout is V-Soft's HR Leadership, who were quick to communicate to the V-Soft Family and give our employees peace of mind, especially early on. We vetted policies and programs offered by HR in collaboration with our COVID Taskforce.
As a multinational company, we were already experienced in remote work, but I'm thankful our in-office team members were able to adjust rapidly to a remote work set up thanks to our skilled IT teams and the leadership of our departments. The transition to work from home (WFH) was not perfect, but it went smoothly and we've even seen increased productivity across the board. Here are a few of the ways we helped our employees cope, manage, and seek to be more efficient as a team during this crisis:
Two weeks into the quarantine we launched a virtual happy hour for employees each Friday. This has been impactful to connect in a disconnected world.

We sent WFH 'survival kits' to every employee, even those furloughed. These snack kits gave a fun break from the confining times and many appreciated the gesture.

Our COVID Taskforce enacted a weekly communication highlighting current events, status of the company, and ongoing overview of the state of our work, m

aking sure that everyone understands the steps V-Soft is taking to weather this storm.
Every manager enacted consistent team checks-ins, many daily, to touch base visually for professional project status, work challenges, and bringing in what is happening in one another's lives as these are unprecedented times.
Adapting to our Customers' Needs
At V-Soft, the center of our business is our employees and clients. We wouldn't be anywhere without our clients who we know are also facing today's challenges as best they can. Like we've experienced with the vendors we use, we want to maintain a true partnership with our clients. We don't want to be seen as just a supplier, but as a trusted partner. During this crisis, being a partner means proactively reaching out and making sure we are doing everything we can to help. We have been flexible with our clients as they work through their own COVID challenges and many have already come back needing additional support to handle this new world we are living in.
My hope in writing this blog is that business leaders facing similar challenges may get some ideas out of what we've done here at V-Soft. To say I'm proud of how the team has handled this situation is an understatement. Only time will tell what the true impact of COVID-19 will be on V-Soft and the industry as a whole, but I'm optimistic we can get through this crisis and thrive in the future.
---
About the Author – Purna Veer
Purna Veer is a nationally recognized entrepreneur and technology thought leader. As the founder and President of V-Soft Consulting, Purna has led the company from its humble beginnings to over 1,200+ global employees and is recognized as a leader in the field of IT services. Learn more in his President's Corner here or connect with Purna on LinkedIn.